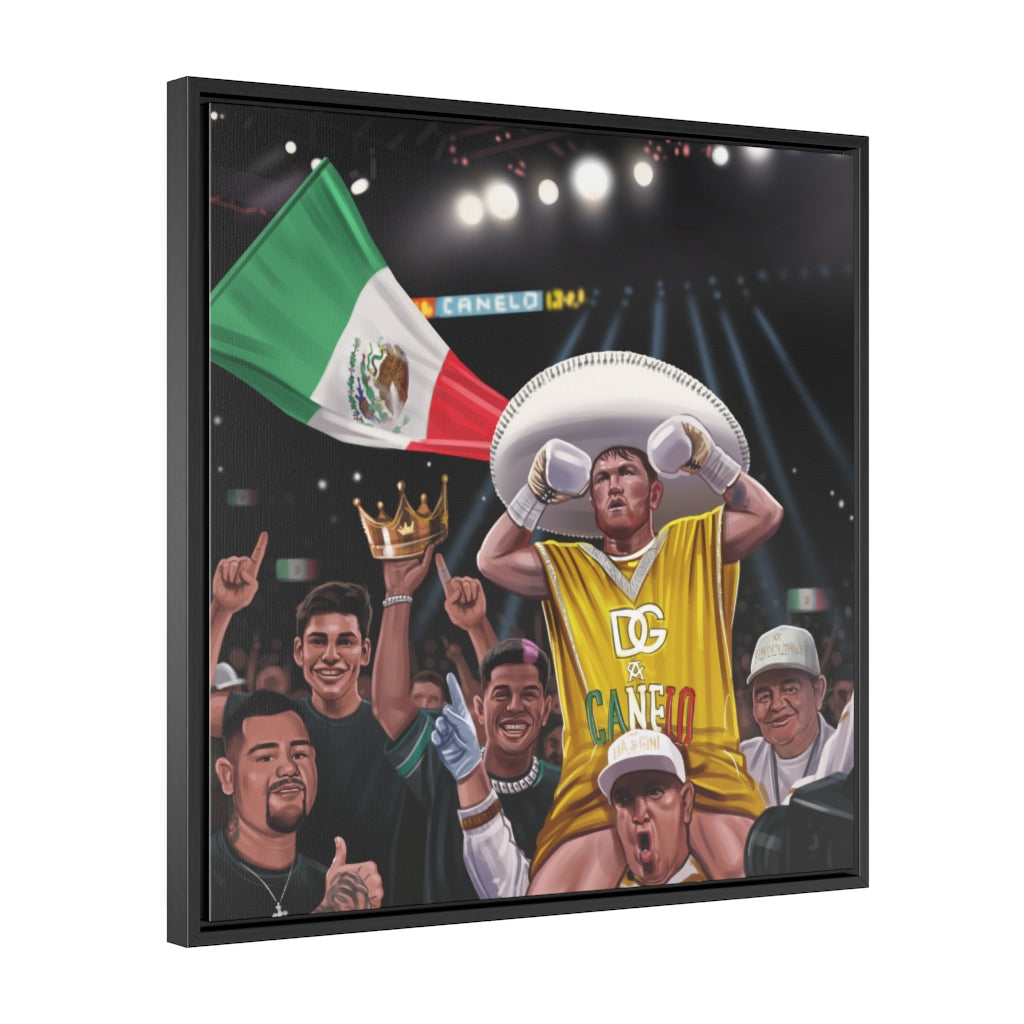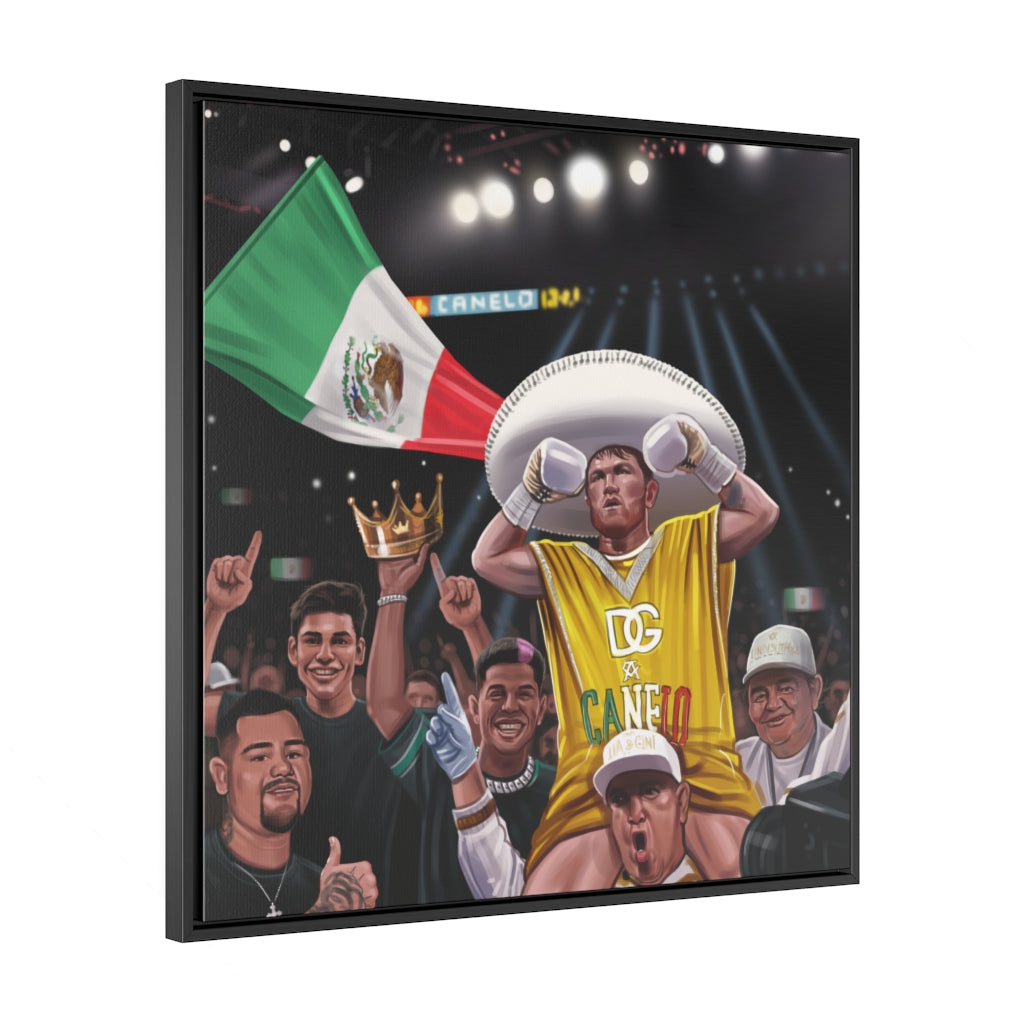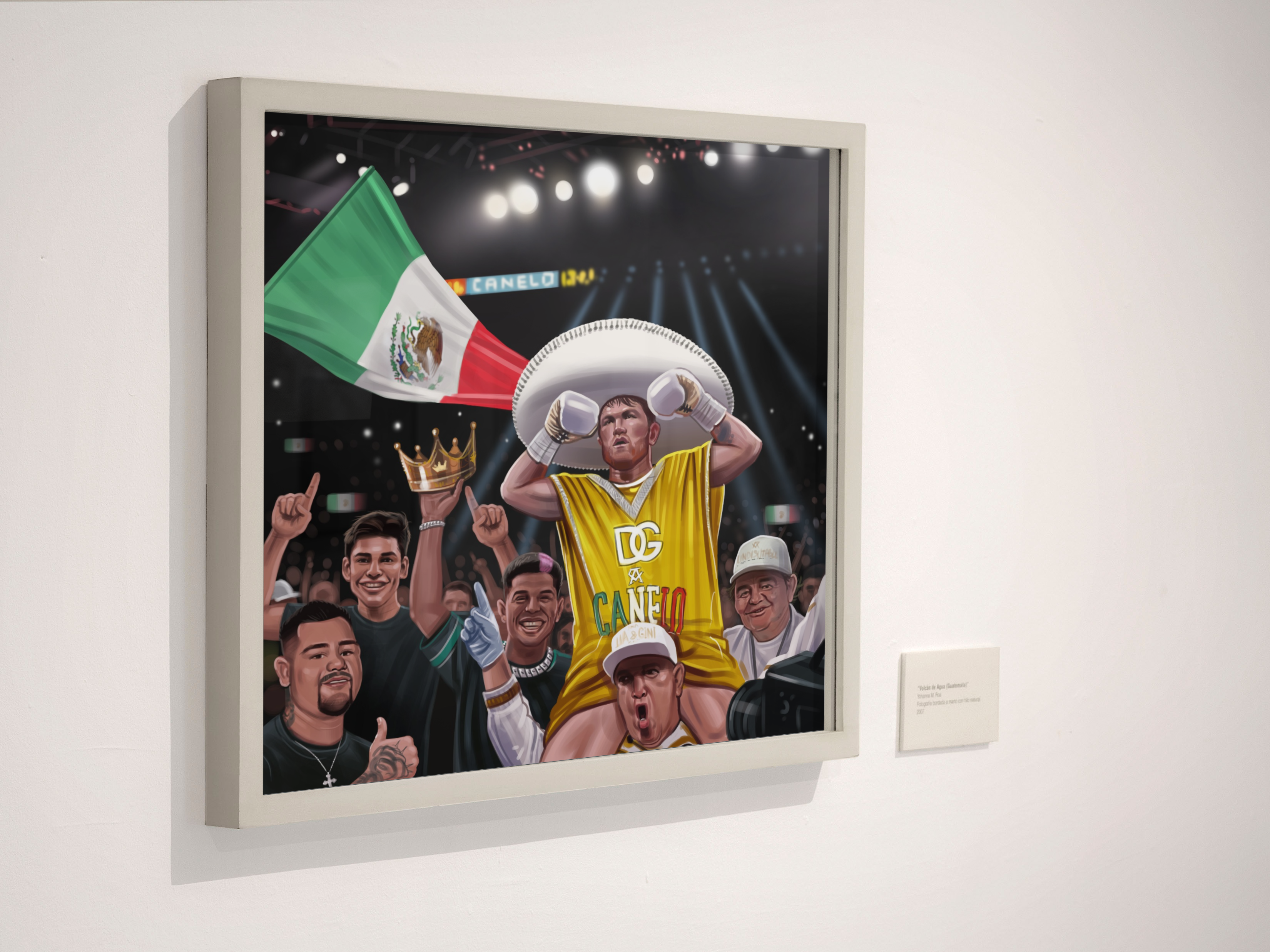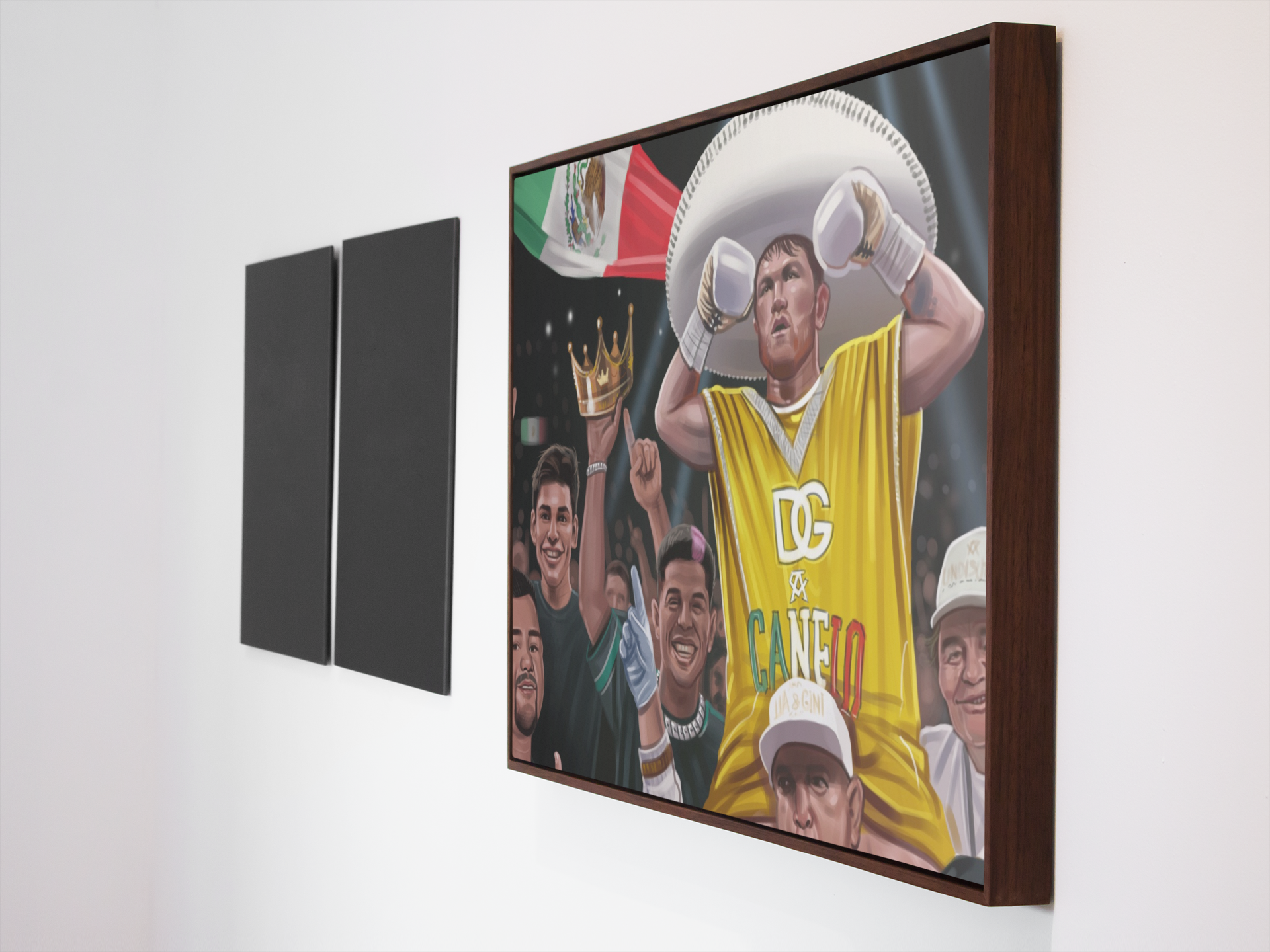 Canelo Team - Cinco de Mayo Celebration Canvas Print (Limited Edition)
Who is Canelo Alvarez
Canelo Alvarez started his boxing career from the bottom up in Jalisco, Mexico, his hometown, until he gained respect in the boxing world.
He was born of a humble "tapatia" family of eight children, in which the older son, Rigoberto, decided to take up boxing, inspiring the rest of the family. First, he received their support, and then he watched his brothers follow his steps. When Canelo was 13 years old, he started punching the bag and has not stopped since then.
As an amateur boxer, Alvarez had a record of 44-2 with 12 KOs. He made his debut as a professional on Oct. 29, 2005. Six years later, he won a vacant world junior middleweight title against Matthew Hatton, and in 2013 added another belt with a unanimous decision victory over Austin Trout.
Five months later, Canelo lost his titles against Floyd Mayweather, which left a mark on his career. But in 2015, Alvarez defeated Miguel Cotto to become the middleweight championship of the world.
Due to Canelo's humble beginnings, he had to mature quickly. That is why he has cared so much about all aspects of his career, both inside and outside the ring.
Alvarez has characterized himself as being discreet and reserved about his private life. He has smartly managed his image and appearances, and he has become the Latino boxer with the most media coverage.
....
Canelo Alvarez vs Dmitry Bivol
Only recently we were asking ourselves Who can beat Canelo Alvarez.
On May 7th, 2022, Canelo Alvarez has been defeated in a unanimous points decision which allowed Dmitry Bivol to retain his WBA light-heavyweight title and maintain his unbeaten record.
Alvarez moved up a divison to the heaviest weight of his career to endure 12 rounds in Las Vegas with the Russian, who joined Floyd Mayweather as the only people to beat the 31-year-old.
Next Fight for Canelo Alvarez?
Losing to Bivol was Canelo's hunt for legacy getting the best of him. He found out that some mountains are too tall to climb. You could argue that Bivol may not have been the better all-around boxer, but his combination of ability and a significant size advantage was simply too much for even the great Mexican fighter to overcome.
Canelo learned that there are weight classes in boxing for a reason and he was out of his depth on this night. 
The greats lose. It happens. But in this day and age where social media can pounce on any subject immediately with hyperbole, losing is made out to be something that is far worse than it is. 
But Canelo does have to consider whether it is worth it to try his hand against Bivol again. What can he possibly do differently to produce a different outcome?
"I always like to learn from things," Alvarez said. "Today, I feel like I learned a lot, and I'm going to show you this in the upcoming fights."
Why Cinco De Mayo Celebration?
Cinco De Mayo is a symbol of defiance. It's a day to celebrate being together to stand up for what we believe in, even when faced with risks. It's a symbol of young fighters fighting to give their families and communities a chance at prosperity. It's a symbol that allows people from all walks of life to join under the bonds of courage and brotherhood.
And what better gift could there be than the symbol of the Mexican Boxing, Canelo Alvarez?
Decorate your room with the finest Canelo Alvarez canvas prints from your favorite Boxing Shop
Let your personality be reflected on the artwork adorning your walls. This square gallery wrapped canvas print will always look as tight and flat as the day it was made. Every frame is built with a solid face to support the canvas and prevent deforming. Available in multiple sizes, comes in walnut and black frame options.
.: 100% cotton fabric canvas
.: Poplar wood frame with walnut or black finish
.: High image quality and detail
.: NB! For indoor use only