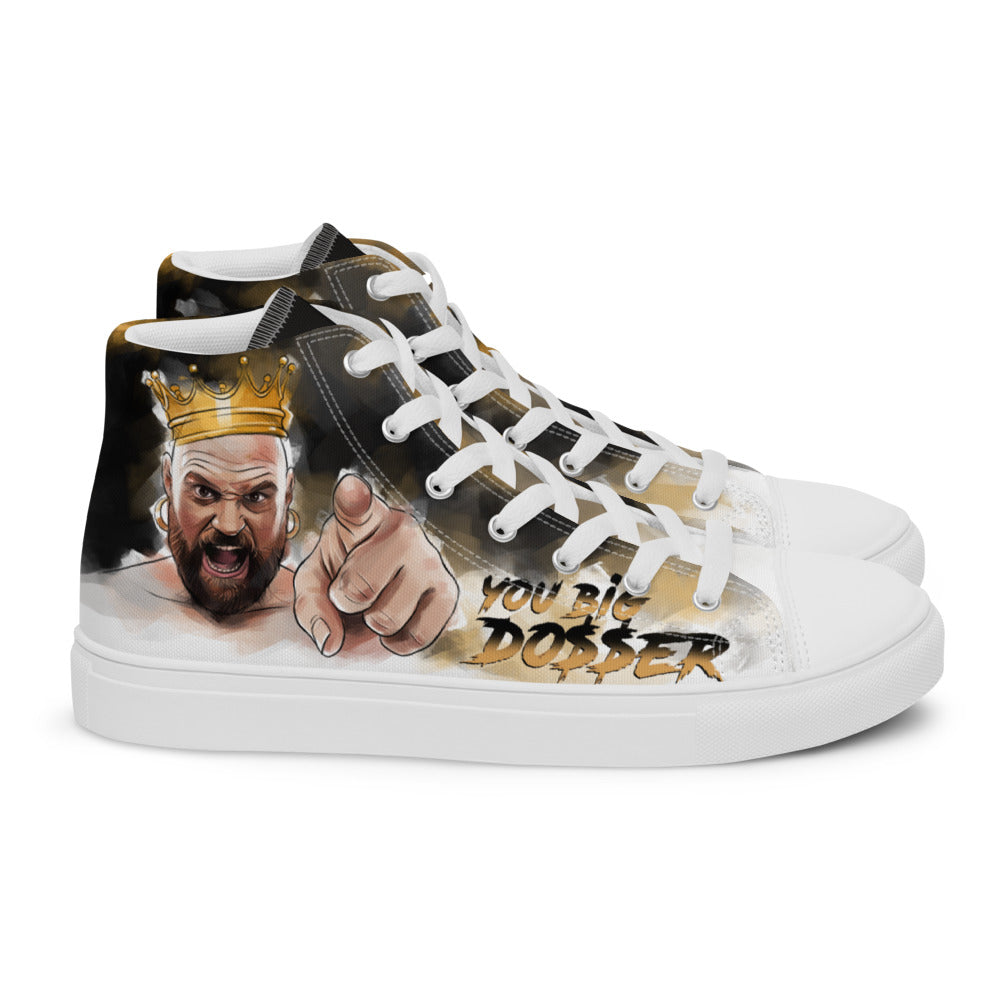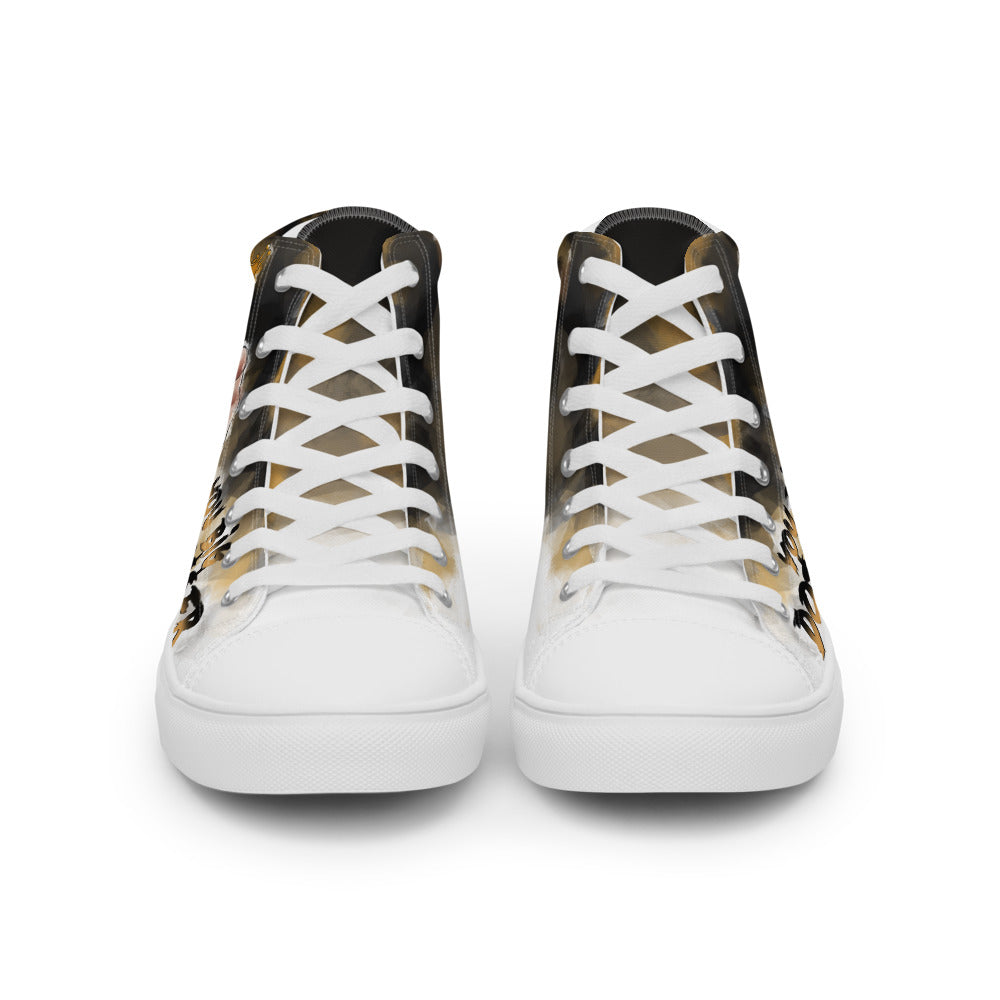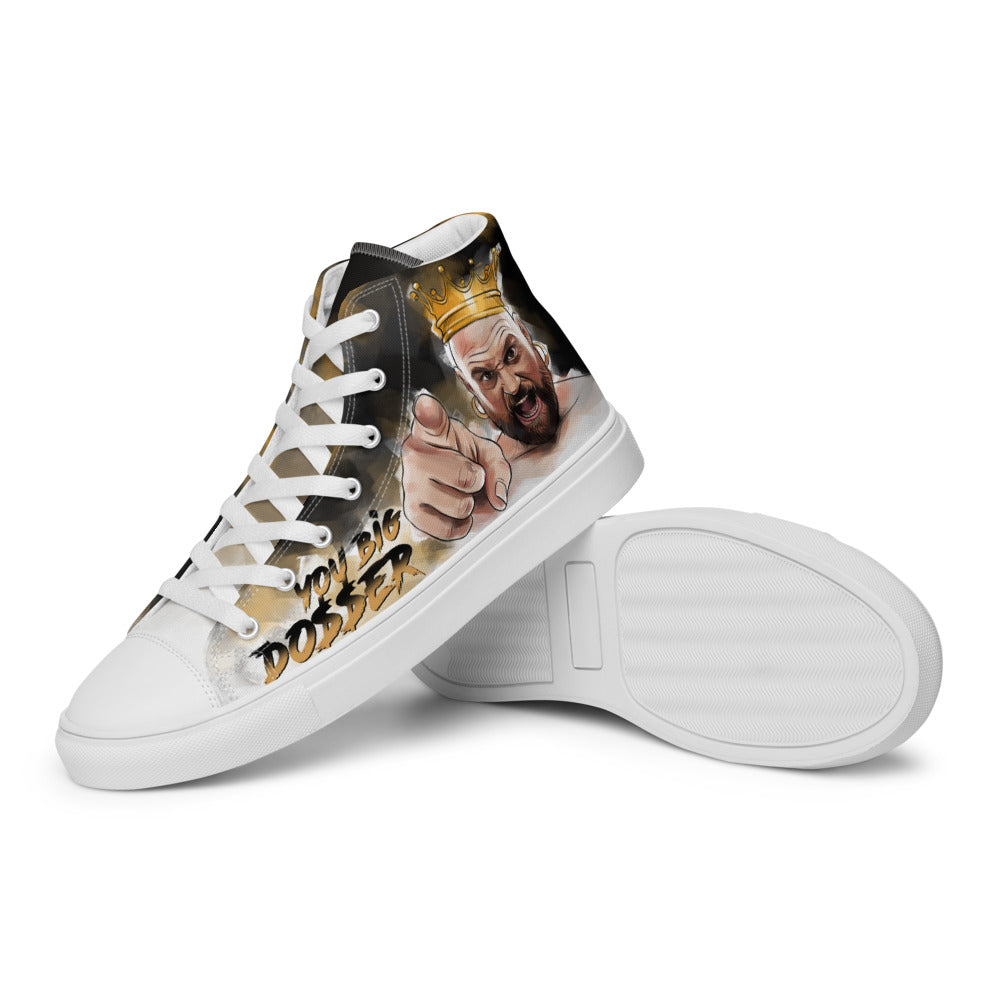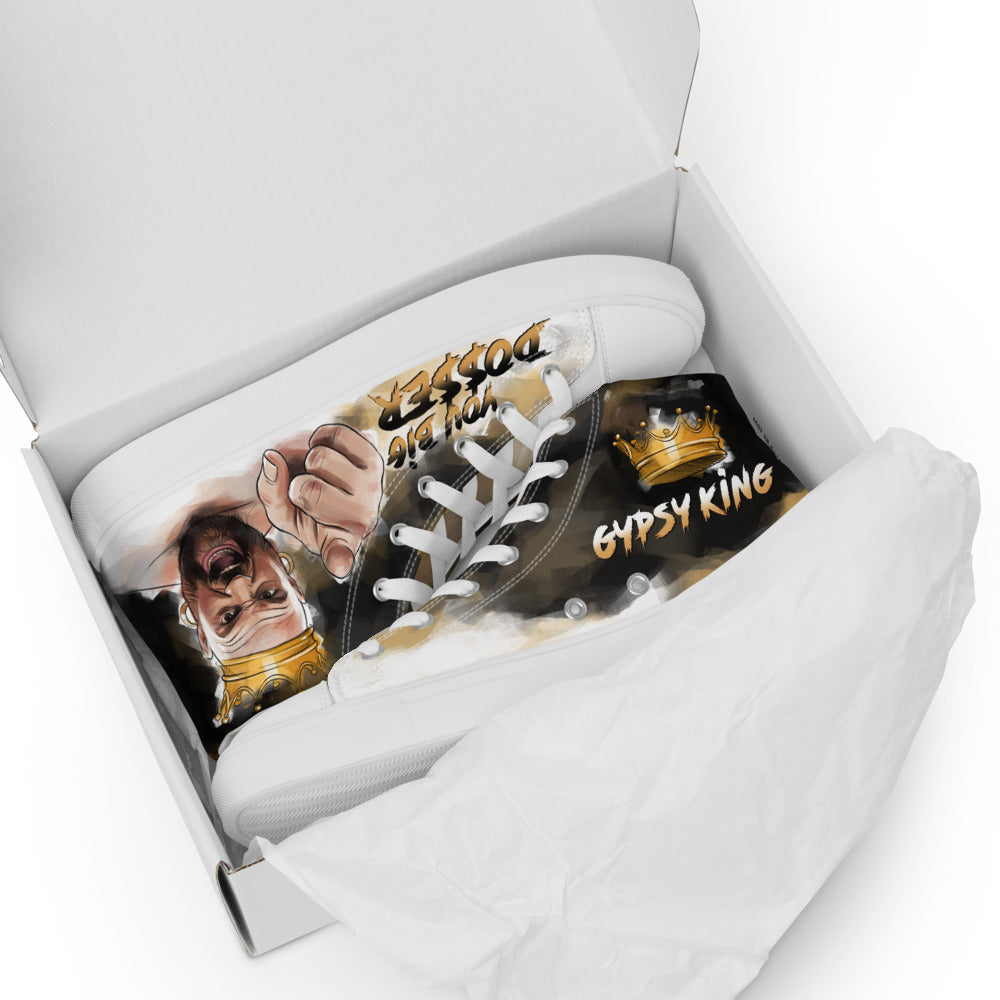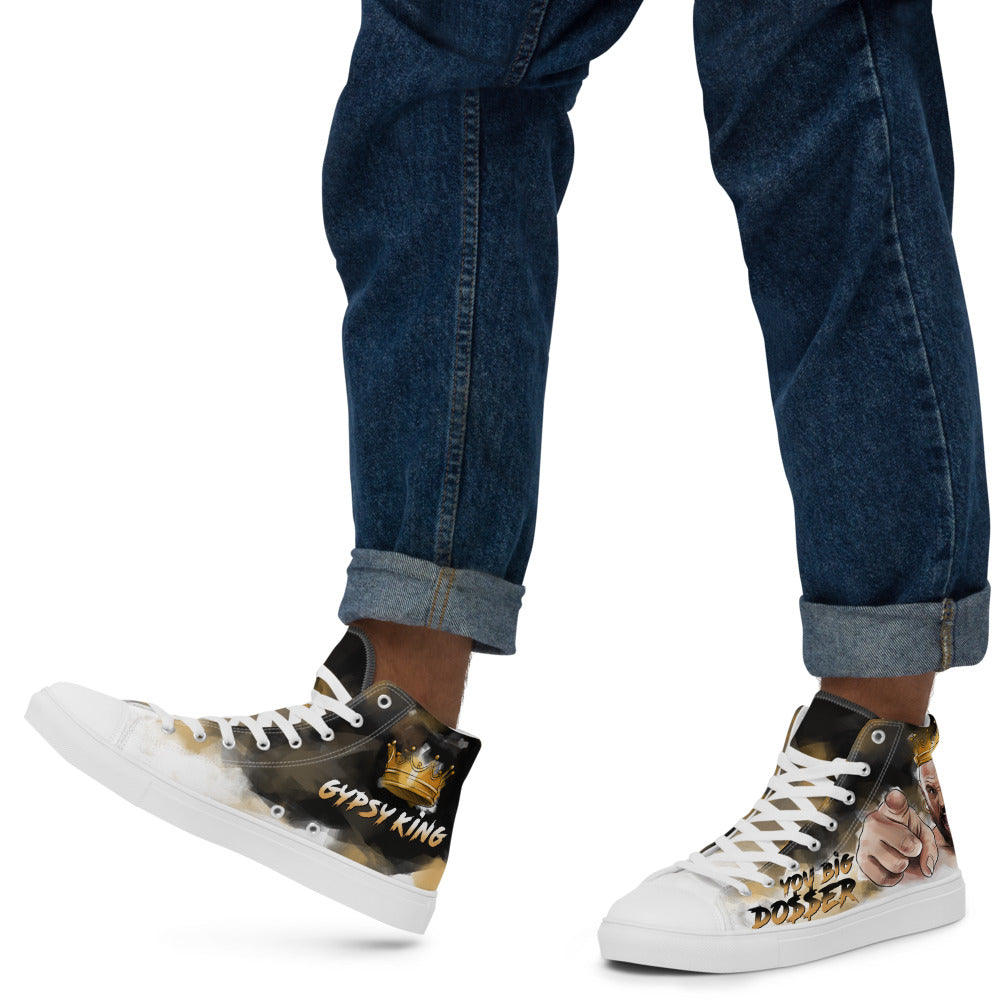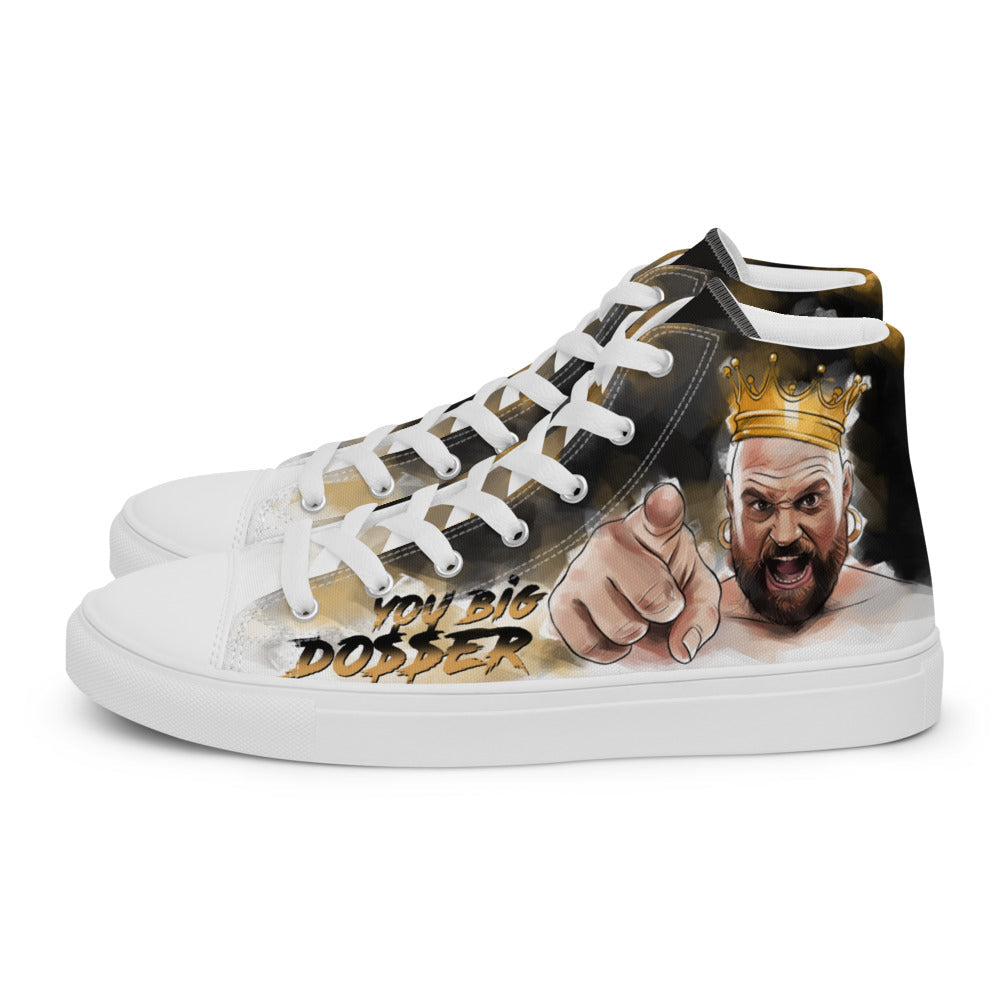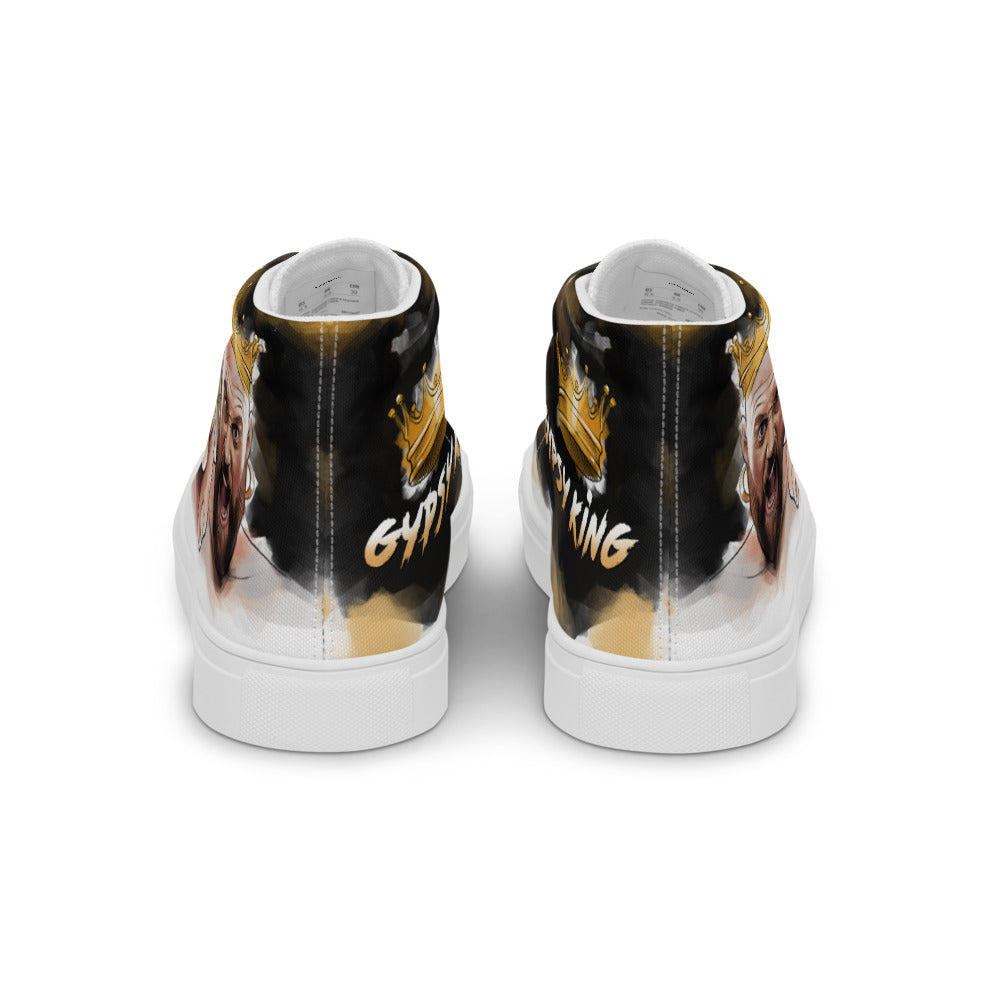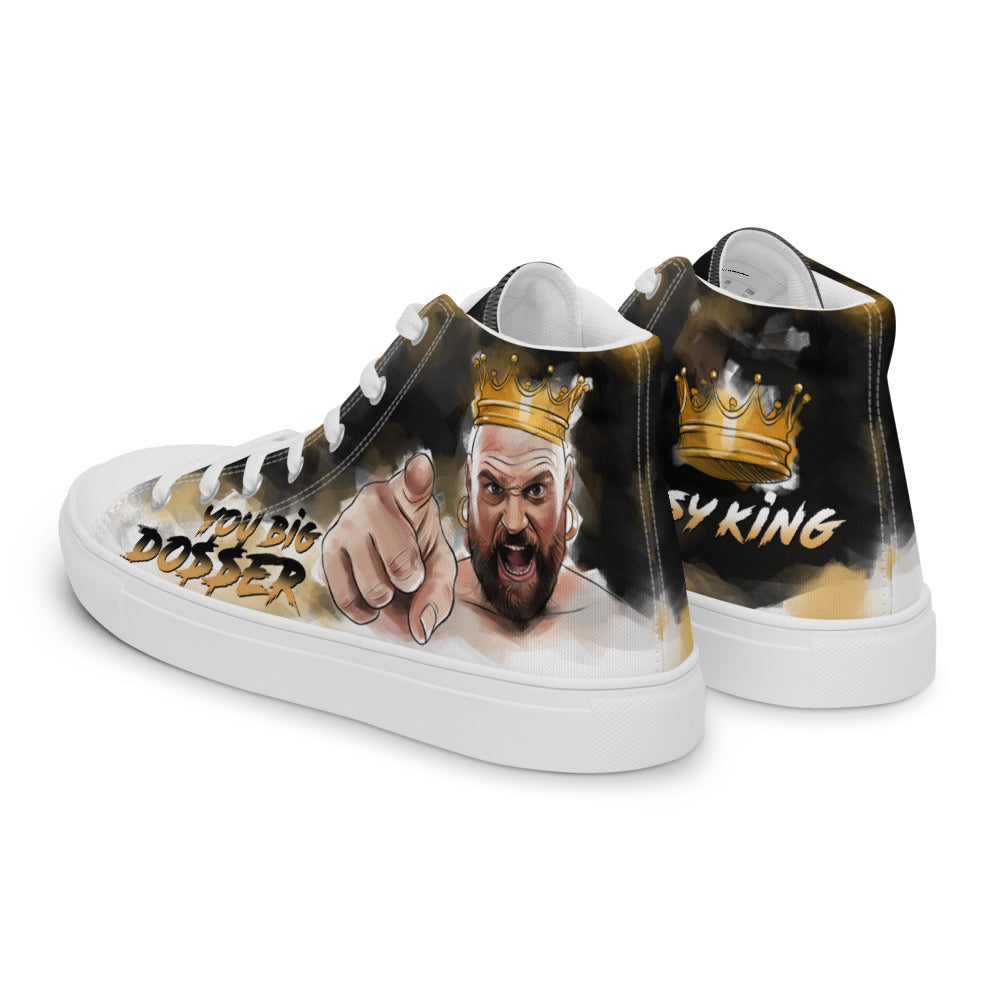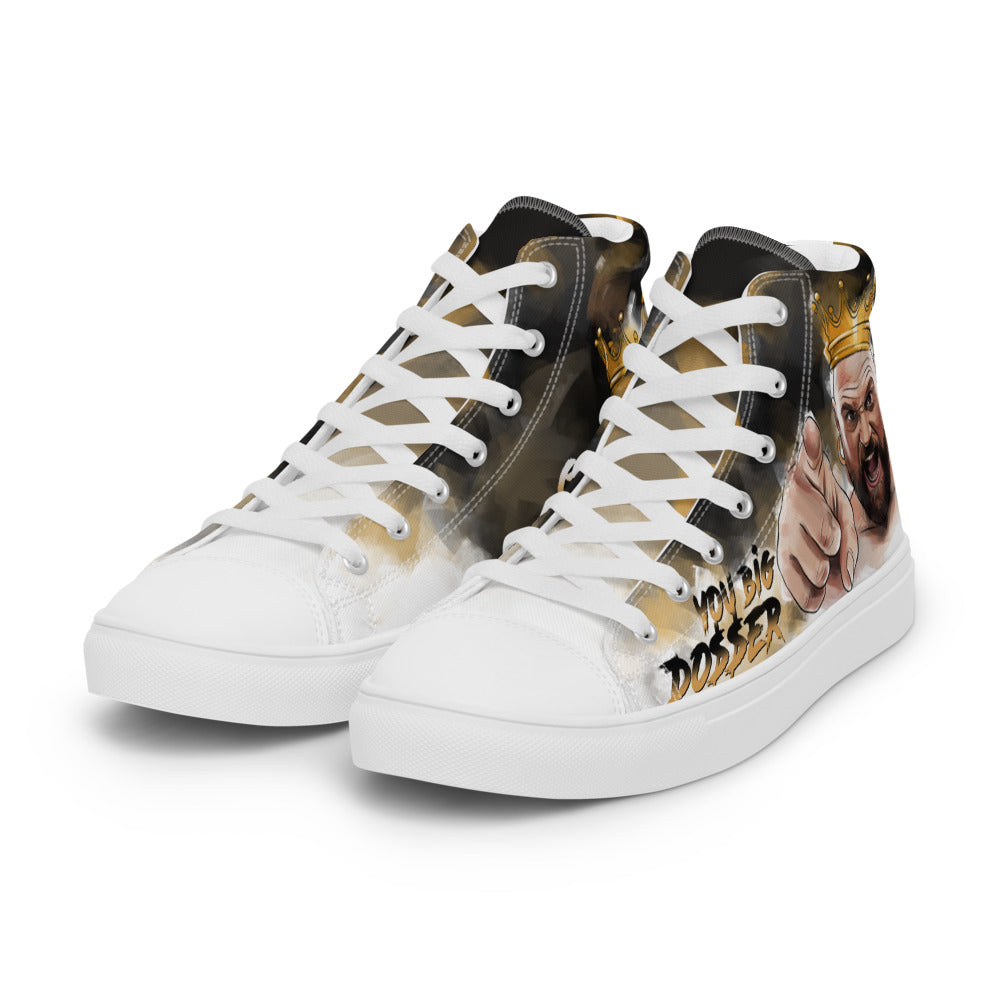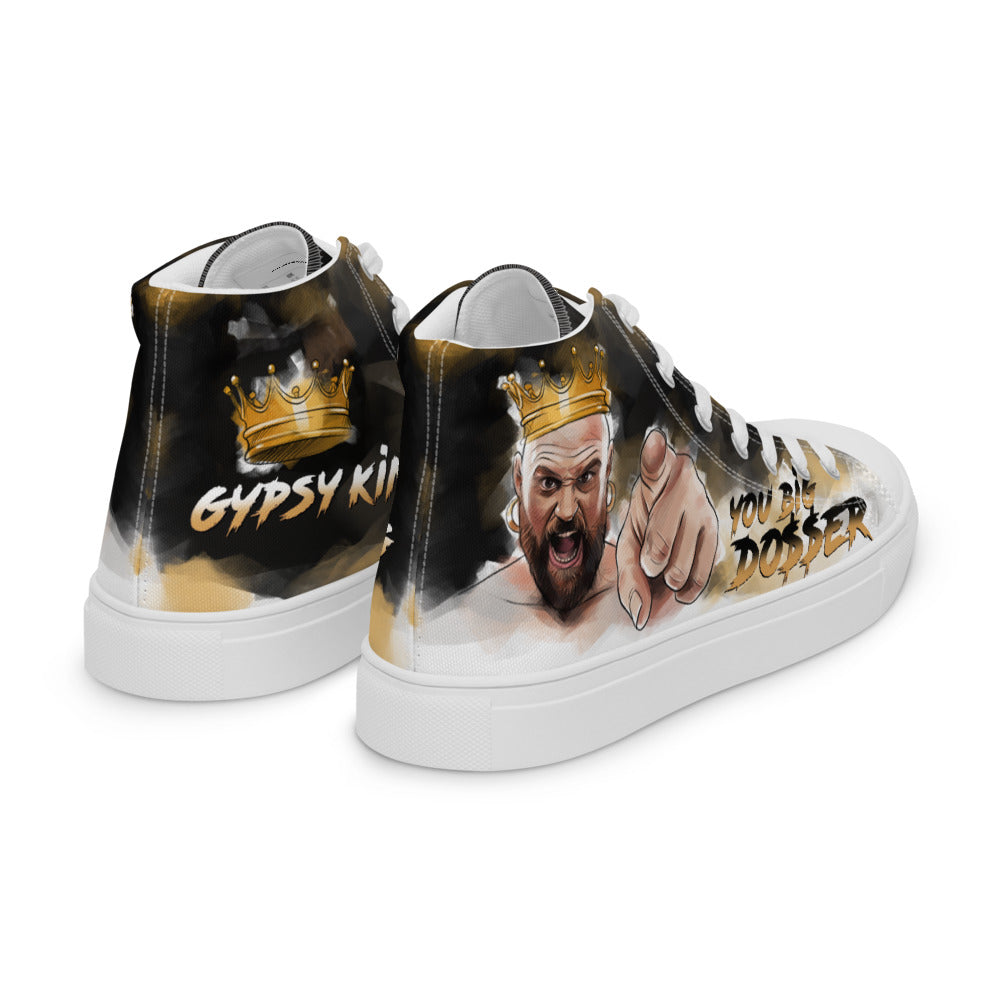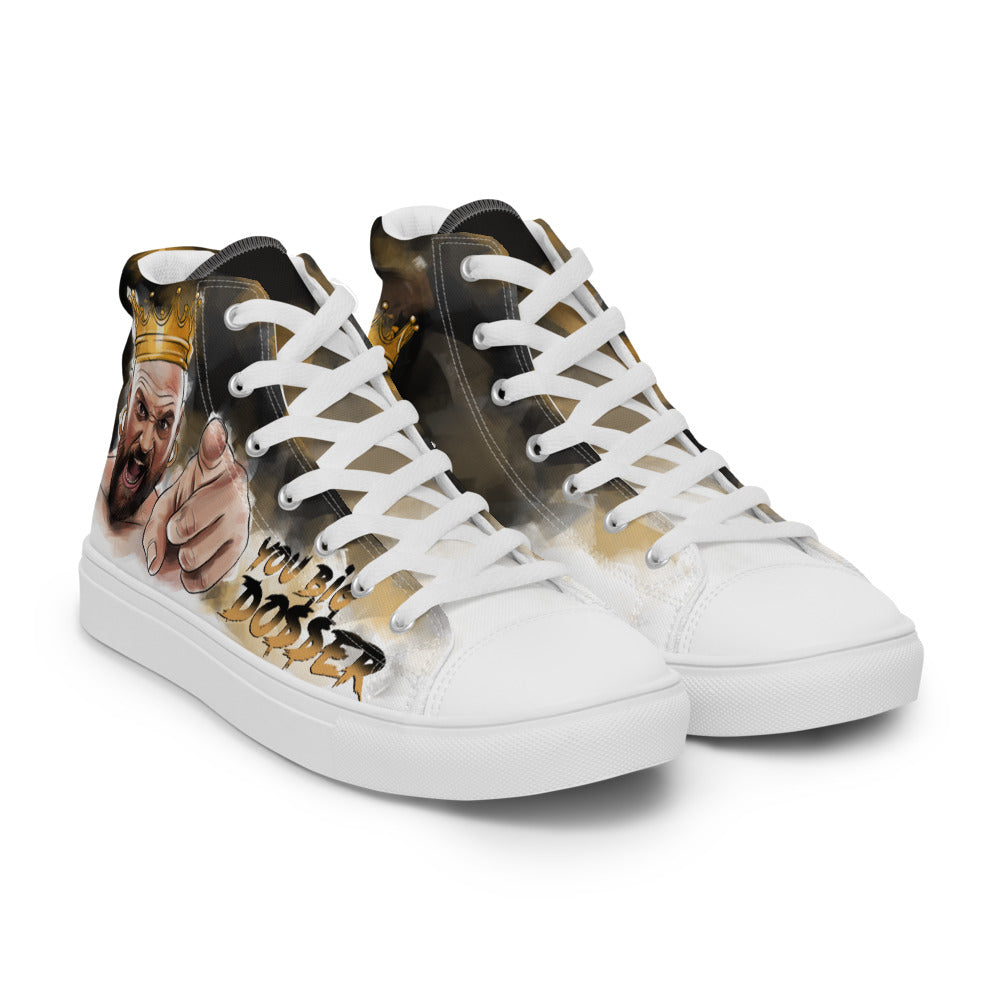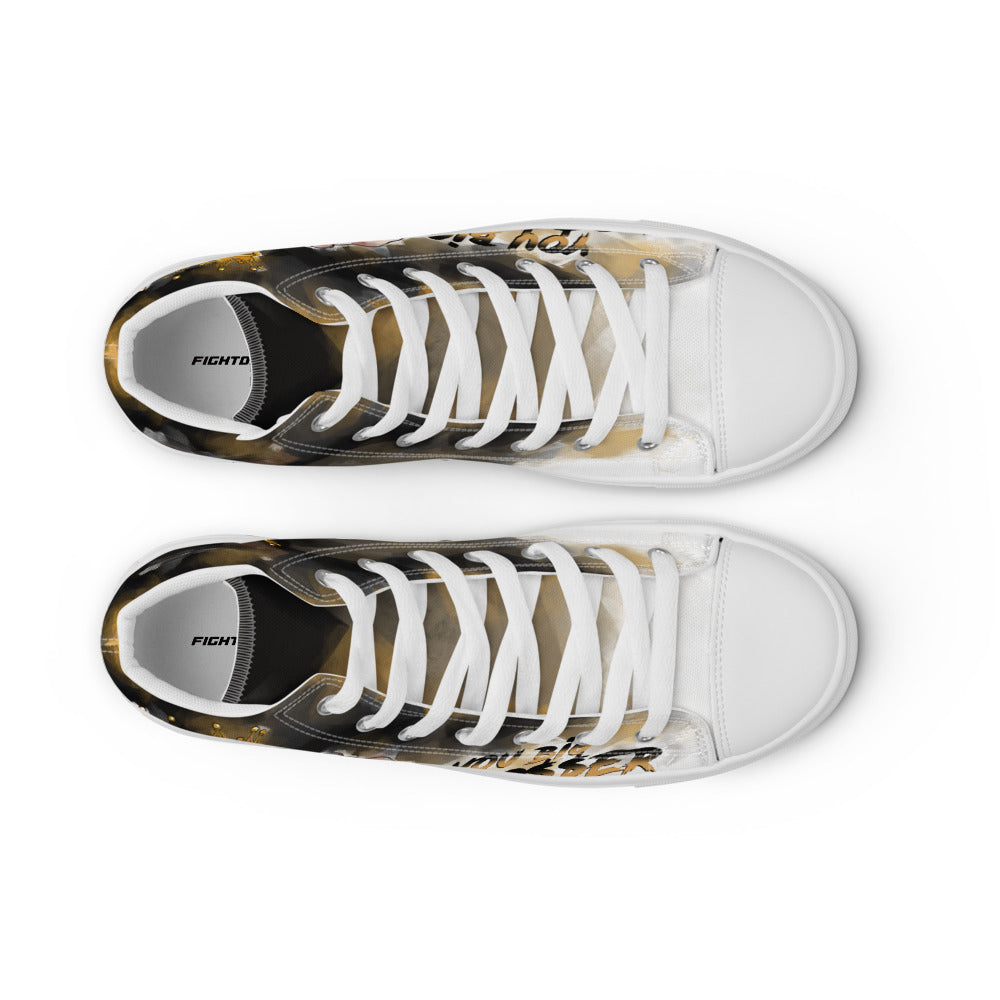 Inspired by Tyson Fury "The Gypsy King" - Men's High Top Canvas Shoe (Gold Version)
Tyson Fury Nickname
Why is Tyson Fury called 'The Gypsy King'?
Fury's nickname comes from his Irish traveller heritage on both his mother and father's sides, which he was often spoken of during his career.

In 2016, for example, the boxer declared: "I am a gypsy and that's it. I will always be a gypsy, I'll never change. I will always be fat and white and that's it. I am the champion, yet I am thought of as a bum."

His family has a strong boxing heritage, with Fury's father John fighting bare-knuckled and unlicensed, and later as a professional, under the nickname "Gypsy" John Fury.
Tyson Fury v Deontay Wilder
Tyson Fury cemented his legacy as the best heavyweight in the world with an emphatic victory over Deontay Wilder in their trilogy fight.

In his first ever world title defence, Fury proved there was no doubt who was the better fighter as he survived two knockdowns to finish Wilder in the eleventh round.

The Gypsy King is now celebrating in style in Sin City as footage emerges of the fighter dancing and relishing in his victory.
Shop Tyson Fury items at your favorite Boxing store!
Step up your shoe game with this Gold-Colored High Top Canvas Shoes. These handmade, trendy shoes are sure to spice up your outfit. Get yours now!

• 100% polyester, canvas upper side
• Ethylene-vinyl acetate (EVA) rubber outsole
• Breathable lining, soft insole
• Faux leather toe cap
• White laces
• Padded collar, lace-up front
• Blank product sourced from China

Important: This product is available in the following countries: United States, Canada, Australia, New Zealand, and Japan. If your shipping address is outside these countries, please choose a different product.

Disclaimer: The shoes will have a glue-like smell when opening the box. The smell will disappear a few days after the shoes are unpacked.
Size guide
| | | | | |
| --- | --- | --- | --- | --- |
|   | US MEN | UK | EUROPE | FOOT LENGTH |
| 5 (inches) | 5 | 4 | 37 ½ | 9 ¼ |
| 5.5 (inches) | 5 ½ | 4 ½ | 38 | 9 ¼ |
| 6 (inches) | 6 | 5 | 38 ½ | 9 ½ |
| 6.5 (inches) | 6 ½ | 5 ½ | 39 | 9 ½ |
| 7 (inches) | 7 | 6 | 40 | 9 ¾ |
| 7.5 (inches) | 7 ½ | 6 ½ | 40 ½ | 10 |
| 8 (inches) | 8 | 7 | 41 | 10 |
| 8.5 (inches) | 8 ½ | 7 ½ | 42 | 10 ¼ |
| 9 (inches) | 9 | 8 | 42 ½ | 10 ½ |
| 9.5 (inches) | 9 ½ | 8 ½ | 43 | 10 ¾ |
| 10 (inches) | 10 | 9 | 44 | 11 |
| 10.5 (inches) | 10 ½ | 9 ½ | 44 ½ | 11 |
| 11 (inches) | 11 | 10 | 45 | 11 ¼ |
| 11.5 (inches) | 11 ½ | 10 ½ | 46 | 11 ½ |
| 12 (inches) | 12 | 11 | 46 ½ | 11 ½ |
| 12.5 (inches) | 12 ½ | 11 ½ | 47 | 11 ¾ |
| 13 (inches) | 13 | 12 | 47 ½ | 12 |